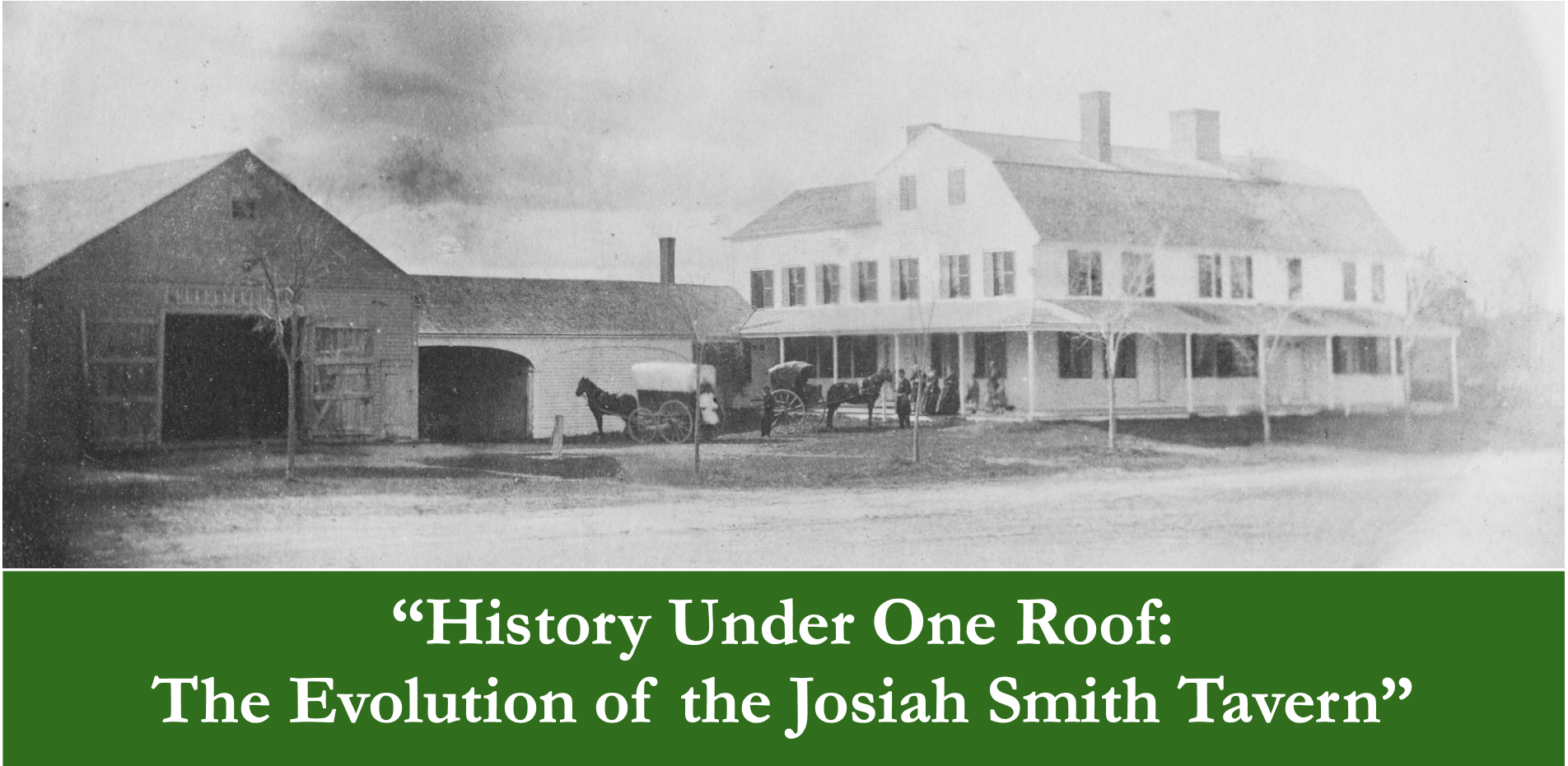 With Grateful Thanks!
The Weston Historical Society exhibit "History Under One Roof" is now closed. It will be dismantled in the spring to make way for a Weston Historical Society reading room and collections processing area. Before that happens, we will schedule one or more spring open houses for those who missed the exhibit. (Email info@westonhistory.org if you would like to be notified.)
Beginning in May 2022, the society held 29 events (open houses for the community and non-profit organizations, churches, garden clubs, and the COA), attended by an estimated 575 persons.
Thanks to the generosity of St. Julia Church, WHS will be able to continue to store items in the church basement, which will allow us to devote space in the JST for future exhibits.
"History Under One Roof" was made possible by generous donations from WHS members and friends, a grant from the Weston Historical Commission, and a grant from the Weston Cultural Council, a local agency that is supported by the Mass Cultural Council, a state agency.
Holiday Cards
From the Weston Historical Society collection
Dating to the 1920s and 1930s, these greeting cards were sent to the Roland Gammons family, 49 Newton Street, and found in the attic by the next owner, Carin Dohlman (Mrs. Claes Dohlman). (Gift of Lena Dohlman)
Descriptions of the cards:
Cutout card depicting a little boy holding a wreath, with actual fabric woven scarf around his neck, with words "There's nothing chilly about my greeting / Merry Christmas," signed from "Alice."
Drawing of terrier sitting attentively by hearth with stockings, captioned "Something good should come from this!" and "Christmas Greetings."
Sheet music with lyrics "God rest ye merry gentlemen let nothing ye dismay"; below, silhouetted colonial figures sitting and standing around a table toasting with wine glasses.
Drawing of a large carriage on a snowy evening being pulled by four horses and holding several people, labeled "Christmas and New Year Greetings."
Red star-shaped card with elements all in white: a man with top hat and scarf standing in the center carrying a basket, a wreath, and a wrapped package; lanterns, stars, dots, and "Christmas Greetings" in jumbled letters arrayed around him.

A festively edged mock "Warranty Deed" reading:

Office of Register of Deeds

State of Good Will

Pleasure County

I hereby certify that the within Deed was filed in this office for record on the 25th day of Dec. at 9 A.M. and was duly recorded.

(Faux signature:) Yuletide Greetings, Register of Deeds

Taxes for the year on all the lands described within paid this 25th day of Dec.

(Faux signature:) Christmas Joy, County Treasurer

Taxes paid and Transfer entered this 25th day of December

(Faux signature:) Mary Mistletoe, County Auditor

Detailed, fancily decorated line drawing of a knight on a horse carrying a flag with a cross on it, with a castle in the distance, labeled "Christmas Greetings" and signed "Don."
Block print of three brightly shining candles in a window with a wreath above, in Art Nouveau style, with message "A Merry Christmas and a Happy New Year" below the window, and labeled from "Alice and Harry Cabot" at the base.
A puppy with a red bow around its neck and its front paws printed on an apparent pop-up flap; on the flap are the words "It's my 'pup'-pose to wish you a Merry Christmas."
A standing 20s-era lady wearing a sleek black dress, wearing one stocking and holding the other, with the stocking box on the floor, captioned "If you can fill this better than I — go to it!" and with bold-lettered "Merry Christmas" in the background, signed "guess who?" at the bottom.
Drawing of a man and woman driving through a snowy field among trees with houses and full moon in the background, with a fence segment labeled "Season's Greetings" in front. The car, 1930s era, is embossed and has a coppery color and sheen, and seems to be separately printed from the rest of the card and glued to it.
Old photograph captioned "Residence Street, Miami" of a straight flat street lined with palm trees and large houses set back from the street, with message "Season's Greetings from Miami" below.

Drawing of a crowd of women in fancy 20s-era clothes gathered around a long table piled with Christmas cards in a large store, with a sign "Christmas Cards" suspended overhead and a sign "Take Your Pick" standing on the table. Below the drawing is the message:

Merry Christmas

I pick 'em up and set 'em down
I look 'em through and through,
But there ain't a verse in this whole town
That's good enough for you!

A trio of standing, vaguely medieval-looking musicians, the central musician bowing a large viol resting on the ground and singing along with the left-hand musician who's holding a foldout of sheet music; the right-hand musician is playing a straight horn. Light blue background with white snowflakes. Titled "Christmas Greetings and Best Wishes for the New Year" on top, printed "Alice and Harry Cabot" below the musicians.
Block print of a top-hatted man and a woman in a red dress and bonnet walking in town with snowy steep-roofed houses, captioned "A Christmas Greeting from Charles and Flora Wilson."
Drawing of the Three Wise Men riding on camels inside a Middle Eastern-looking decorative arched frame, with blocky buildings in the background and rays of the Star of Bethlehem emanating across the sky, captioned "Greetings of the Season."
A squarish red block print in top center of the card, with cutout silhouettes of a bird on a wide flower and the word "Greeting" in blocky letters plus other decorative shapes, signed "Alice and Phil" in pen.

A Christmas menu in old-fashioned lettering:

Menu

Keewayden Christmas, 1880

Soup.

Consommé

Fish.

Chicken Halibut

Entrées.

Hot Boned Turkey

Mutton Chops, Petits Pois.

Potatoes, à la Royale.

Roast.

Canvas-back Duck. Spinach.

Partridges. Dressed Celery.

Salad.

Lettuce.

Entremêts.

Plum Pudding.

Mince Pies.

Ices.

Vanilla Ice-cream.

Orange Sherbet.

Frozen Pudding.

Dessert.

[Nothing is listed under Dessert.]


A snowy village-square scene with half-timbered houses and church, all with scarlet walls, with silhouetted people in foreground in 19th-century dress (top hats, bonnets, wide dresses).
Minimal, modern-style block print of a lit red candle and candle-holder at left, with their shadows in gray extending down to the right, and part of a red disk ringed with gray behind the flame, with "Merry Christmas" in the center behind the candle.
Block print with light red background, silhouetted tall pines in the foreground, on snowy ground printed in a bronze color, with snowy rooftops and more evergreen trees in the background, and full moon behind the tall pines in the same bronze color.
A female skier dressed in bright colors skiing down a hill with scarf flying out behind her, the sky in background a light gold color and the snow a grayish green. Captioned "Wishing you a Merry Christmas" below, the text sloping down like the ski slope. The edges of the picture all have a similar slope as well, so the overall shape is a near-parallelogram. Signed in pen with a hard-to-decipher name.
Additional cards are on display in the WHS Exhibit Cases at
Weston Public Library Reading Room and
Weston Town Hall entrance lobby.
Shop Local! The perfect gift for every Weston home.
Farm Town to Suburb
The History and Architecture of Weston, Massachusetts
1830–2020
Second Edition, Revised and Expanded
by Pamela W. Fox
with Sarah B. Gilman, Photo Editor
Farm Town to Suburb is a comprehensive history of the Town of Weston, with particular emphasis on the years 1830–2020. Extensively documented and richly illustrated, the book chronicles the economic, social, and political evolution of the town from rural agricultural community to modern Boston suburb. The first 10 chapters are organized by time period and the remaining 20 focus on geographical areas. Originally published in 2001, this second edition brings the book up to date with a new chapter covering 1980 to 2020 and revisions to the original reflecting changes and new discoveries. With Farm Town to Suburb as a guide, readers of today can connect with the past and enrich the present by looking at the development of their own streets and neighborhoods.
Since moving to Weston in 1991, Pam Fox has been researching, writing, and lecturing about Weston history. She serves as a consultant to the Weston Historical Commission and president of the Weston Historical Society.
736 pages
1075 photos, maps, and illustrations
New 24-page chapter, 1980 to 2020, with 40 new color photos
$75
2022 Holiday Special
$60*
To receive this discount, email pamfox@mac.com for details
*plus $3.75 sales tax
Awarded Certificate of Commendation from the American Association of State and Local History, 2002
Order online at Love Lane Press
or pick up a copy at Florentine Frames
Questions? Email info@lovelanepress.com.